Nucleocapsid protein (Tag free)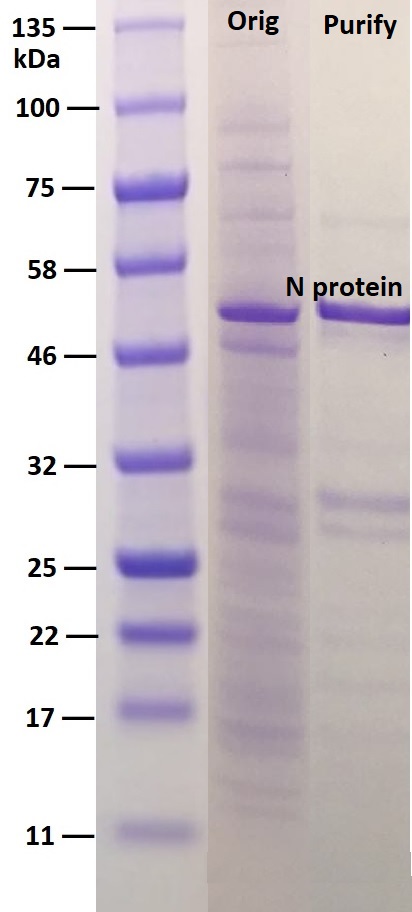 The coronavirus nucleocapsid (N Protein) is a structural protein that forms complexes with genomic RNA, interacts with the viral membrane protein during virion assembly and plays a critical role in enhancing the efficiency of virus transcription and assembly.
Name:

Nucleocapsid protein (Tag free)

Synonyms:

SARS-CoV-2 N protein (Tag free)

Catalogue Number:

PT-COV-1001

Application:

Research in vaccine development

Price:

100ug $99 0.5mg $299 1mg $500

Number:

Concentration:

1mg/ml

Store:

Avoid repeated freeze-thaw cycles. 12 months at -20 C to -80 C. 1 month at 2 C to 8 C.
Product Description: The nucleocapsid protein from coronavirus is one of the two major proteins that is used in vaccine development. It was expressed in E. coli with high yield and tag free.
Sequence:.SDNGPQNQRN APRITFGGPS DSTGSNQNGE RSGARSKQRR PQGLPNNTAS WFTALTQHGK EDLKFPRGQG VPINTNSSPD DQIGYYRRAT RRIRGGDGKM KDLSPRWYFY YLGTGPEAGL PYGANKDGII WVATEGALNT PKDHIGTRNP ANNAAIVLQL PQGTTLPKGF YAEGSRGGSQ ASSRSSSRSR NSSRNSTPGS SRGTSPARMA GNGGDAALAL LLLDRLNQLE SKMSGKGQQQ QGQTVTKKSA AEASKKPRQK RTATKAYNVT QAFGRRGPEQ TQGNFGDQEL IRQGTDYKHW PQIAQFAPSA SAFFGMSRIG MEVTPSGTWL TYTGAIKLDD KDPNFKDQVI LLNKHIDAYK TFPPTEPKKD KKKKADETQA LPQRQKKQQT VTLLPAADLD DFSKQLQQSM SSADSTQA
Accession #: P0DTC9
Quality control: Verified by Mass Spectrometry analysis.
Product Source: SARS-CoV-2 N protein was produced in E. coli cells transformed with SARS-CoV-2 N protein gene. This product is sterile and does not contain any components of animal origin.
Usage: FOR LABORATORY RESEARCH USE ONLY.
References:
| | |
| --- | --- |
| Cat No.: | PT-COV-1001 |
| Product Name: | Nucleocapsid protein (Tag free) |
| Type: | Protein |
| Property: | |
| Origin: | |
| Source: | E.coli |
| Application: | Research in vaccine development |
| Formulation: | Sterile filtered through a 0.2 micron filter in 50% glycerol, 200 mM NaCl, 5mM beta mercaptoethanol, 10 mM phosphate buffer pH7.4 |
| Purity: | >95% by SDS-PAGE gel |
| Storage: | Avoid repeated freeze-thaw cycles. 12 months at -20 C to -80 C. 1 month at 2 C to 8 C. |
| Limitation: | |
| Note: | |