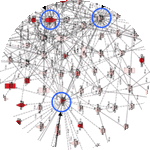 Proteomics
Proteomic analysis is an essential tool in the discovery of protein biomarkers, which may act as targets for disease diagnostics and therapeutic interventions. ProtTech provides LC-MS based proteomic analysis. Building on our broad range of expertise in protein analysis and protein purification and functional studies, we are dedicated to deliver a high valued service package to our clients.
We have two main platforms in the proteomic analysis: label-free LC-MS based proteomics and SILIC LC-MS based proteomics. With our expertise in protein purification, protein immobilization protein chemistry and proteomic sample processing, we also provide add-on services to meet our clients' various needs, including sample isolation, protein purification, chemical labeling, immobilization on a solid phase, pathway analysis, etc. Our integrated services will help our clients in the study of phosphoproteomics. Chemoproteomics, organelle proteomics, signaling proteomics and other research areas.
Please contact us for your protein analysis inquiry or request.