Recombinant Human Interleukin-2 (hIL-2)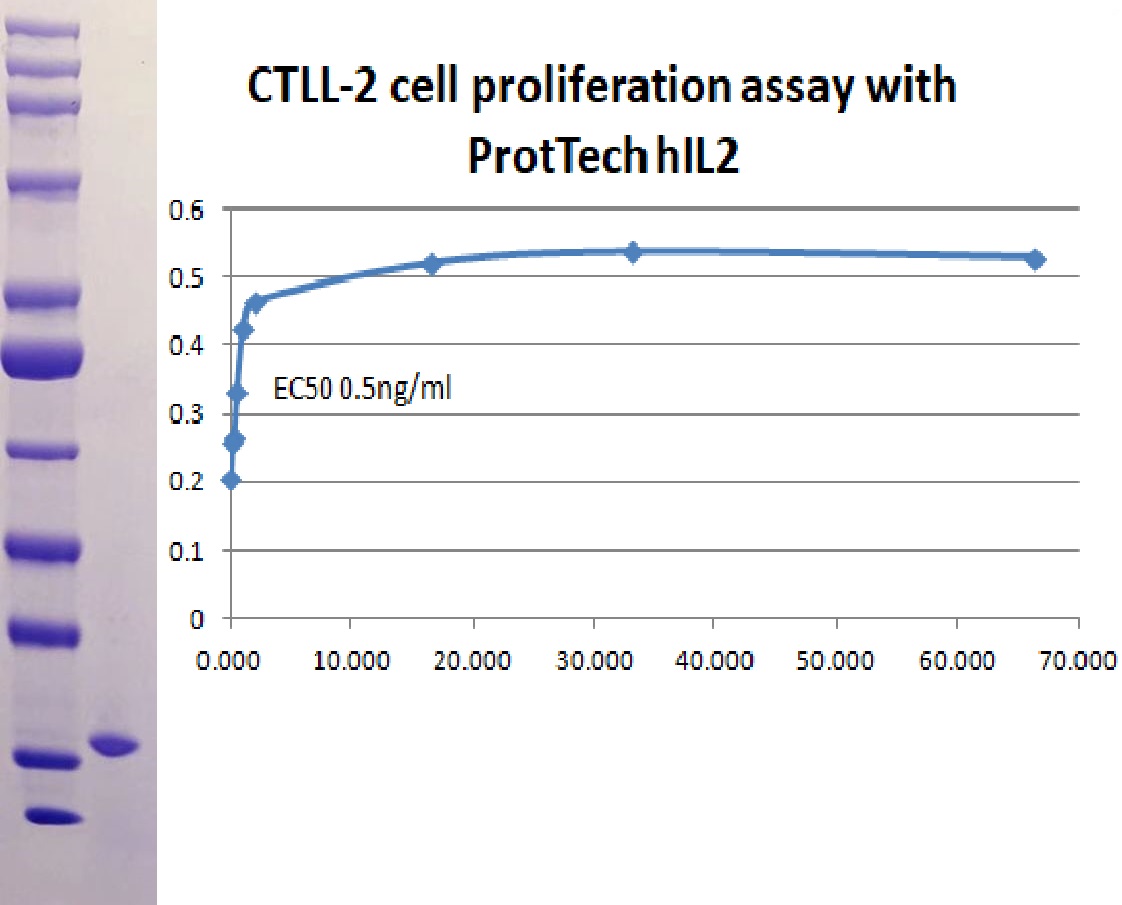 Human interleukin-2 (IL-2) is a type of cytokine signaling molecule in the immune system. It regulates the activities of white blood cells primarily via its direct effects on T cells.
Sequence:.MAPTSSSTKK TQLQLEHLLL DLQMILNGIN NYKNPKLTRM LTFKFYMPKK ATELKHLQCL EEELKPLEEV LNLAQSKNFH LRPRDLISNI NVIVLELKGS ETTFMCEYAD ETATIVEFLN RWITFSQSII STLTGGGGSH HHHHH
Acession #: P60568
Quality control: Verified by Mass Spectrometry analyses and disulfide mapping.
Product Source: Recombinant human IL-2 was produced in E. Coli cells transformed with human IL-2 gene. This product is sterile and does not contain any components of animal origin.
Usage: FOR LABORATORY RESEARCH USE ONLY.

References:
Simons G, Degrave W, Tavernier J, Remaut E, Fiers W., Molecular cloning of human interleukin 2 cDNA and its expression in E. coli, Nucleic Acids Res. 1983 Jul 11;11(13):4307-23. doi: 10.1093/nar/11.13.4307.
| | |
| --- | --- |
| Cat No.: | PT-CF-hIL2 |
| Product Name: | Recombinant Human Interleukin-2 (hIL-2) |
| Type: | Protein |
| Property: | |
| Origin: | |
| Source: | E.coli |
| Application: | Research only |
| Formulation: | Sterile filtered through a 0.2 micron filter in 50% glycerol, 10 mM Phosphate buffer at pH 7, 200 mM |
| Purity: | >95% by SDS-PAGE gel |
| Storage: | Avoid repeated freeze-thaw cycles. 12 months at -20 C to -80 C. 1 month at 2 C to 8 C. |
| Limitation: | |
| Note: | |