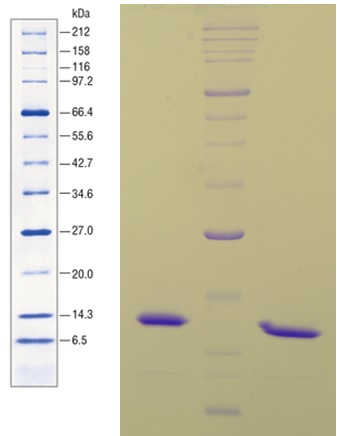 Recombinant human PD-1, extracellular domain is produced in E. coli. The final protein sequence contains G22-V170 of human PD1 fused to a polyhistidine tag on the carboxyl terminus.
Product Description: PD-1 receptor is a single immunoglobulin variable like domain that inducibly expressed on the surface of natural killer cells, B cells, activated monocytes, CD4+ T cells and CD8+ T cells. PD-1 expression is induced by T cell receptor or B cell receptor. PD-1 interaction with its ligands, PD-L1 and PD-L2, regulate the threshold for T cell activation and cytokines production.
Sequence:.MPGWFLDSPD RPWNPPTFSP ALLVVTEGDN ATFTCSFSNT SESFVLNWYR MSPSNQTDKL AAFPEDRSQP GQDCRFRVTQ LPNGRDFHMS VVRARRNDSG TYLCGAISLA PKAQIKESLR AELRVTERRA EVPTAHPSPS PRPAGQFQTL VGSHHHHHH
Accession #: Q15116
Quality control: Verified by disulfide mapping and Mass Spectrometry analysis.
Product Source: PD1 was produced in E. coli cells transformed with human PD1 gene. This product is sterile and does not contain any components of animal origin.
Usage: FOR LABORATORY RESEARCH USE ONLY.
References:
Sharpe, Arlene H., E. John Wherry, Rafi Ahmed, and Gordon J. Freeman. "The function of programmed cell death 1 and its ligands in regulating autoimmunity and infection." Nature immunology 8, no. 3 (2007): 239-245.

Brown, Julia A., David M. Dorfman, Feng-Rong Ma, Elizabeth L. Sullivan, Oliver Munoz, Clive R. Wood, Edward A. Greenfield, and Gordon J. Freeman. "Blockade of programmed death-1 ligands on dendritic cells enhances T cell activation and cytokine production." The Journal of Immunology 170, no. 3 (2003): 1257-1266.
| | |
| --- | --- |
| Cat No.: | PT-OP-0002 |
| Product Name: | PD-1 |
| Type: | Protein |
| Property: | |
| Origin: | |
| Source: | E.coli |
| Application: | Research in immunotherapy |
| Formulation: | Sterile filtered through a 0.2 micron filter in 50% glycerol, 10 mM MES buffer at pH 6.5 |
| Purity: | >95% by SDS-PAGE gel |
| Storage: | Avoid repeated freeze-thaw cycles. 12 months at -20 C to -80 C. 1 month at 2 C to 8 C. |
| Limitation: | |
| Note: | |