Recombinant Human IFN-gamma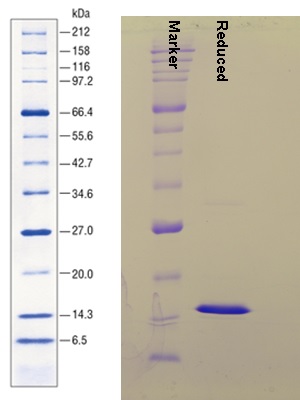 Interferon-gamma is the only member of the type II IFN, also called the immune interferon. Interferon-gamma is known for its primary ability to regulate overall immune system. It also has weak antiviral and anti-proliferative activity.1 It is involve in the activation, growth and differentiation of macrophages, T-cells, B-cells and NK cells.2 Macrophage stimulation with IFN-gamma induces direct antimicrobial and antitumor mechanisms.
Name:

Recombinant Human IFN-gamma

Synonyms:

IFNG, immune interferon, macrophage-activating factor

Catalogue Number:

PT-CF-hIFG-001

Application:

FOR LABORATORY RESEARCH USE ONLY.

Price:

50ug $80 100ug $100 500ug $400

Number:

Concentration:

0.5mg/ml

Store:

Avoid repeated freeze-thaw cycles. 12 months at -20 C to -80 C. 1 month at 2 C to 8 C.
Sequence: QDPYVKEAEN LKKYFNAGHS DVADNGTLFL GILKNWKEES DRKIMQSQIV SFYFKLFKNF KDDQSIQKSV ETIKEDMNVK FFNSNKKKRD DFEKLTNYSV TDLNVQRKAI HELIQVMAEL SPAAKTGKRK RSQMLFRG
Acession #: P01579
Quality control: Verified by Mass Spectrometry analyses.
Product Source: IFNG was produced in E. Coli cells transformed with human IFNG gene. This product is sterile and does not contain any components of animal origin.

References:
Schroder, K., Hertzog, P. J., Ravasi, T., & Hume, D. A. (2004). Interferon-γ: an overview of signals, mechanisms and functions. Journal of leukocyte biology,75(2), 163-189.

Romagnani, S. (1997). the th1/th2 paradigm. Immunology today, 18(6), 263-266.
| | |
| --- | --- |
| Cat No.: | PT-CF-hIFG-001 |
| Product Name: | Recombinant Human IFN-gamma |
| Type: | Protein |
| Property: | |
| Origin: | |
| Source: | E.coli |
| Application: | FOR LABORATORY RESEARCH USE ONLY. |
| Formulation: | Sterile filtered through a 0.2 micron filter in 50% glycerol, 10 mM Phosphate buffer at pH 7.4, 200 |
| Purity: | >95% by SDS-PAGE gel |
| Storage: | Avoid repeated freeze-thaw cycles. 12 months at -20 C to -80 C. 1 month at 2 C to 8 C. |
| Limitation: | |
| Note: | |