Recombinant Human TNF-alpha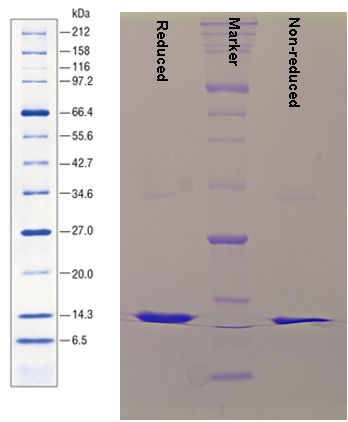 Tumor necrosis factor (TNF-alpha) is a key regulator of the inflammatory response. TNF-alpha is involved in a diverse range of inflammatory conditions, including rheumatoid arthritis, ankylosing spondylitis, inflammatory bowel disease and psoriasis. TNF-alpha binds to two different receptors, TNFR1 and TNFR2 to trigger immune responses. The physiological role of TNF-alpha has been highlighted by the use of anti-TNF antibody drug or soluble TNF receptor drug in inflammatory diseases.
Name:

Recombinant Human TNF-alpha

Synonyms:

Tumor necrosis factor, TNF, Cachectin, TNF-α

Catalogue Number:

PT-CF-hTNFA-001

Application:

FOR LABORATORY RESEARCH USE ONLY.

Price:

50ug $80 100ug $100 500ug $400

Number:

Concentration:

0.5mg/ml

Store:

Avoid repeated freeze-thaw cycles. 12 months at -20 C to -80 C. 1 month at 2 C to 8 C.

Sequence: GPQREEFPRD LSLISPLAQA VRSSSRTPSD KPVAHVVANP QAEGQLQWLN RRANALLANG VELRDNQLVV PSEGLYLIYS QVLFKGQGCP STHVLLTHTI SRIAVSYQTK VNLLSAIKSP CQRETPEGAE AKPWYEPIYL GGVFQLEKGD RLSAEINRPD YLDFAESGQV YFGIIAL
Acession #: P01375
Quality control: Verified by Mass Spectrometry analyses.
Product Source: TNF-alpha was produced in E. Coli cells transformed with human TNF-alpha gene. This product is sterile and does not contain any components of animal origin.
References:
Bradley, J. R. (2008). TNF-mediated inflammatory disease. The Journal of pathology, 214(2), 149-160.

Song, H. Y., Régnier, C. H., Kirschning, C. J., Goeddel, D. V., & Rothe, M. (1997). Tumor necrosis factor (TNF)-mediated kinase cascades: bifurcation of nuclear factor-κB and c-jun N-terminal kinase (JNK/SAPK) pathways at TNF receptor-associated factor 2. Proceedings of the National Academy of Sciences, 94(18), 9792-9796.
| | |
| --- | --- |
| Cat No.: | PT-CF-hTNFA-001 |
| Product Name: | Recombinant Human TNF-alpha |
| Type: | Protein |
| Property: | |
| Origin: | |
| Source: | E.coli |
| Application: | FOR LABORATORY RESEARCH USE ONLY. |
| Formulation: | Sterile filtered through a 0.2 micron filter in 50% glycerol, 10 mM Tris buffer at pH 8, 50 mM NaCl |
| Purity: | >95% by SDS-PAGE gel |
| Storage: | Avoid repeated freeze-thaw cycles. 12 months at -20 C to -80 C. 1 month at 2 C to 8 C. |
| Limitation: | |
| Note: | |