Recombinant Human Interleukin-4 (hIL-4)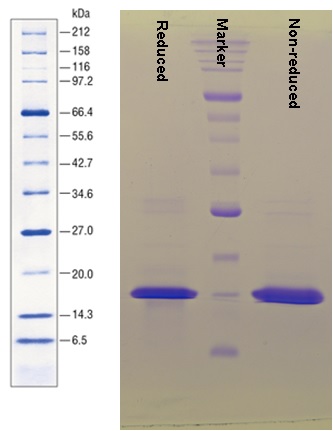 Interleukin-4 (IL-4) is a lymphokine that has pleiotropic effects on both immune and non-immune cells. IL-4 stimulates the proliferation of activated B and T cells. IL-4 preferentially induced IgE and IgG4 production. IL-4 enhances the functional activities of myeloid cells, and the cytotoxic activity of lymphocytes and monocytes. IL-4 also shows inhibitory effect on the growth of chronic lymphocytic B-cells, and anti-tumor activity.
Name:

Recombinant Human Interleukin-4 (hIL-4)

Synonyms:

IL-4, BSF-1, Binetrakin, lymphocyte stimulatory factor 1, pitrakinra

Catalogue Number:

PT-CF-hIL4-001

Application:

Research

Price:

50ug $80 100ug $100 500ug $400

Number:

Concentration:

1.0mg/ml

Store:

Avoid repeated freeze-thaw cycles. 12 months at -20 C to -80 C. 1 month at 2 C to 8 C.
Sequence:.HKCDITLQEI IKTLNSLTEQ KTLCTELTVT DIFAASKNTT EKETFCRAAT VLRQFYSHHE KDTRCLGATA QQFHRHKQLI RFLKRLDRNL WGLAGLNSCP VKEANQSTLE NFLERLKTIM REKYSKCSS
Acession #: P05112
Quality control: Verified by Mass Spectrometry analyses and disulfide mapping.
Product Source: IL-4 was produced in E. Coli cells transformed with human IL-4 gene. This product is sterile and does not contain any components of animal origin.
Usage: FOR LABORATORY RESEARCH USE ONLY.

References:
Walter, M. R., Cook, W. J., Zhao, B. G., Cameron, R. P., Ealick, S. E., Walter, R. L., ... & Bugg, C. E. (1992). Crystal structure of recombinant human interleukin-4. Journal of Biological Chemistry, 267(28), 20371-20376.

Pene, J., Rousset, F., Brière, F., Chrétien, I., Bonnefoy, J. Y., Spits, H., ... & Banchereau, J. (1988). IgE production by normal human lymphocytes is induced by interleukin 4 and suppressed by interferons gamma and alpha and prostaglandin E2. Proceedings of the National Academy of Sciences, 85(18), 6880-6884.
| | |
| --- | --- |
| Cat No.: | PT-CF-hIL4-001 |
| Product Name: | Recombinant Human Interleukin-4 (hIL-4) |
| Type: | Protein |
| Property: | |
| Origin: | |
| Source: | E.coli |
| Application: | Research |
| Formulation: | Sterile filtered through a 0.2 micron filter in 50% glycerol, 10 mM Phosphate buffer at pH 7, 200 mM |
| Purity: | >95% by SDS-PAGE gel |
| Storage: | Avoid repeated freeze-thaw cycles. 12 months at -20 C to -80 C. 1 month at 2 C to 8 C. |
| Limitation: | |
| Note: | |