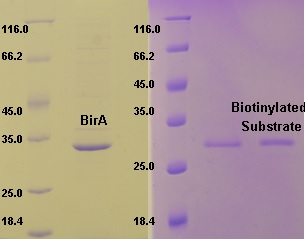 Description: Biotin ligase (BirA) ligates biotin specifically to a biotin acceptor peptide (GLNDIFEAQKIEWHE). This product comes with reaction mixture (10X concentration: 0.5M bicine buffer, pH 8.3, 100mM ATP, 100mM MgCl2, 500μM d-biotin)
Quality control assay: Biotin acceptor peptide tag fusion protein was used as a substrate. BirA activity was verified by streptavidin binding and mass spec analysis. A >95% bitinylation of the substrate was confirmed under the experimental conditions.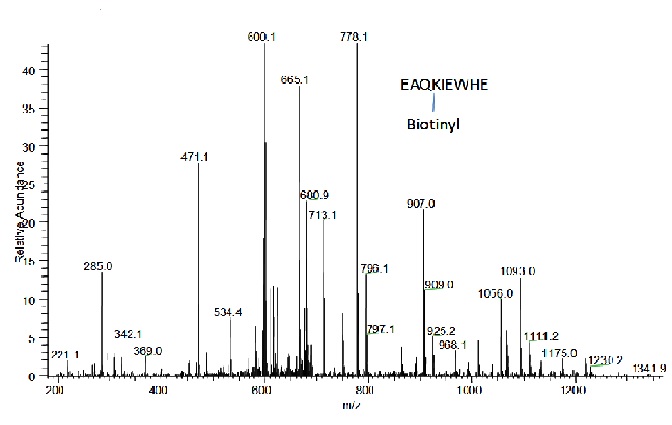 Protocol for biotinylation
1. BirA reaction condition: 50mM bicine buffer, pH 8.3, 10mM ATP, 10mM MgCl2, 50μM d-biotin.
2. Substrate concentration should be around 0.5-1mg/mL. Add 10-50 ug birA per mL reaction volume.
3. Incubate at room temperature for 1 hour or more. Longer reaction time is recommended at lower temperature.
| | |
| --- | --- |
| Cat No.: | PT-EZ-BirA |
| Product Name: | Biotin ligase BirA |
| Type: | Protein |
| Property: | |
| Origin: | |
| Source: | E.coli |
| Application: | FOR LABORATORY RESEARCH USE ONLY. |
| Formulation: | 20 mM MES buffer at pH5.5, 50 mM NaCl, 10% glycerol. |
| Purity: | 80% by SDS-PAGE gel |
| Storage: | Long term storage at 80 C. Avoid repeated freeze-thaw cycles. |
| Limitation: | |
| Note: | Biotin/biotinylated proteins are more soluble in bicine buffer, therefore it is recommended. High glycerol and NaCl conc. may lower birA acitivity. |