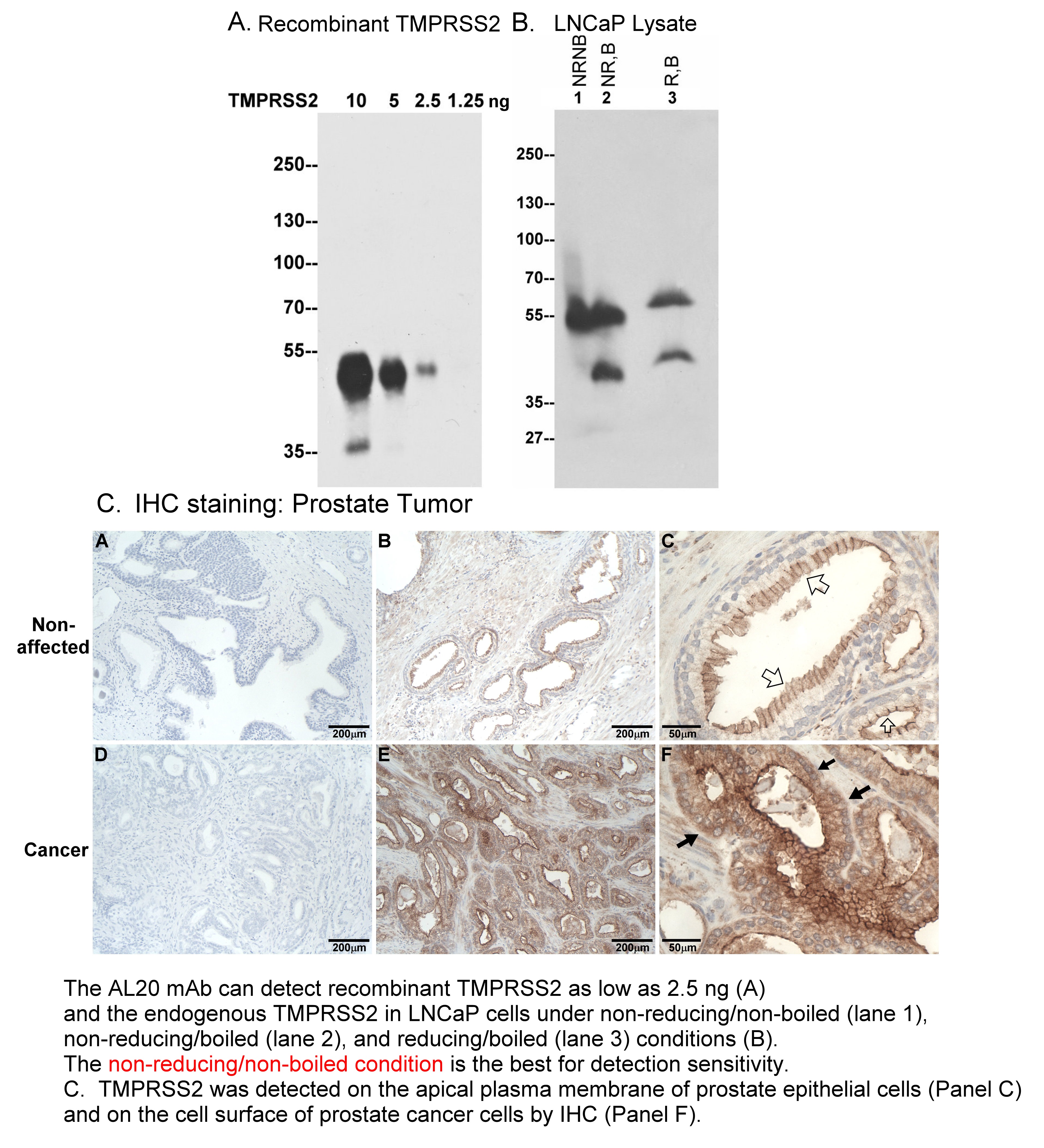 TMPRSS2 (Transmembrane Protease, Serine 2) is encoded by TMPRSS2. TMPRSS2 is a member of the type 2 transmembrane serine protease family. TMPRSS2 exhibits trypsin-like proteolytic activity by cleaving protein substrates at the carboxyl terminus of lysine or arginine residues. The antibody was generated using recombinant TMPRSS2 as immunogen.
Description: Mouse mAb anti human recombinant TMPRSS2.
Applications and Suggested Dilutions*: Western Blot: 1-5 µg/ml; Immunohistochemistry: 1-5 µg/ml
*Specific dilutions and blocking conditions should be determined by the investigator.
Usage: FOR LABORATORY RESEARCH USE ONLY.
References: Chen YW, Lee MS, Lucht A, Chou FP, Huang W, Havighurst TC, Kim K, Wang JK, Antalis T, Johnson MD and Lin CY. TMPRSS2, a Serine Protease Expressed in the Prostate on the Apical Surface of Luminal Epithelial Cells and Released into Semen in Prostasomes, Is Misregulated in Prostate Cancer Cells. Am J Pathol 176: 2986-2996, 2010.
| | |
| --- | --- |
| Cat No.: | PT-mAb-AL20 |
| Product Name: | TMPRSS2 CloneAL20 |
| Type: | Protein |
| Property: | |
| Origin: | mouse |
| Source: | |
| Application: | WB, IHC |
| Formulation: | Protein A purified; 50% Glycerol |
| Purity: | >95% by SDS-PAGE gel |
| Storage: | 12 months at -20 C. |
| Limitation: | |
| Note: | |