Recombinant Antibody Expression
Based on the need of a customer, the service is started with an antibody sequence provided by customers of expressed antibody or antibody expression cell lines delivery to the customer. For the low amount (1-5mg) and one time only antibody expression, we'll use CHO or HEK cells with transient transfection. For higher amount antibody expression, we'll select a stable transfectted cell pool so the production of the antibody can meet a long term need.
Process Diagram: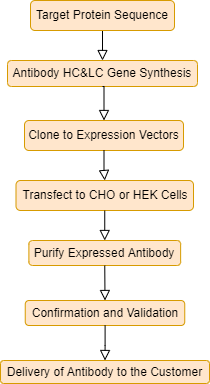 Please contact us for your antibody expression inquiry or request.
Application of antibody expression service:
Expression of Recombinant antibodies for research and diagnostic reagents

Related Service & Products